- Our methodology -
V - Our sketches are accomplished drafts :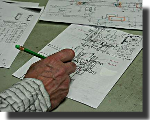 Measurement X-Y-Z
Technical feasability study
Checking of the dimensions
Choice of the needed source of energy
At this step our sketches allow us to :
Establish a cycle chart to assert a [?] and to confirm our choice of solutions.
Estimate the commercial material costs
Estimate the production costs
Estimate the assembling costs
Explain the system to our partners at different levels: automatic working, electricity, hydraulics? to estimate the costs
Nota :Our discussions with our different partners also leads to an analysis of the value.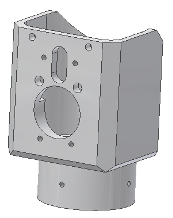 VI - CAD
We input 3D of the chosen the commercial material.
We input 3D sketches of the chosen pieces.
Last rectifications: to simplify or change the aspect ? then again an analysis of the value.
3D animation if needed
VII - Conclusion
We have been using freehand drawings for years and we have never found a limit to this method, it has always helped us resolve the technical problems that we had to face. If some of the concepts shown on the sketches seem simple it is good since it is what we are looknig for: «Why do complicated when we must do simple?»
We are used to work on a A4 format, whatever the size of the system that we have to develop and whatever its complexity. We invite you to consult the gallery "Our products" which shows a sample of our work in various and nonrepetitive areas for which it was «the first time»....
We thank you for your interest and invite you to consult the page An example through sketch ".
Previous page, systemic analys and mind mapping
Top of the page